The history of Van der Linden Products goes back to the start of the previous century, when Willem van der Linden started a small bakery in the south of Rotterdam in The Netherlands. Since then it grew into an international, renowned company with clients from various countries around the world.
Since 1920, Van der Linden has been producing its high quality products on the popular Rotterdamse binnenstad. Willem Van der Linden felt that Rotterdam was the perfect location to continue their traditional recipes while keeping their products current and exciting.
What makes Van der Linden unique is that every item is crafted in the traditional methods that were common to the trade before the modernization of factories and big box outlets.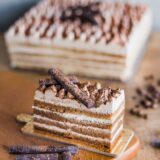 TOP-OF-THE-LINE DUTCH BAKERY INGREDIENTS
Van der Linden Bakery Products was established in the old Dutch and Belgian tradition of chocolate making and artisanal biscuiterie. During the last 30 years, Van der Linden Bakery Products carefully developed fine Belgian chocolate recipes for Belgian pralines with delicious fillings. The Epicurea Fine Belgian Chocolate now is regarded as top-of-the-line and appreciated for its taste and quality.
The craft of Speculoos making was used to create products suitable for the bakery and confectionery industry. With Biskit Butter Speculoos spread and crumbles, numerous fast-selling recipes and products were developed.
Throughout time, Van der Linden Bakery Products increasingly manufactured diverse products together with our partners in various countries with a full range of high-quality European bakery, confectionery ingredients, and products for the food industry.
We ensure exquisitely picked ingredients from all over the world that match your taste. Distribution is secured through HORECA, foodservice channels and retail distributors for  Biskit Butter Speculoos spread creamy & crunchy, Speculoos crumbles 0-2mm, 2-6mm, Speculoos biscuits in 200g or individually wrapped to be served with a cup of coffee or tea and fine Van der Linden French Wafer Flakes Feuilletine.
Flavorful Biskit Butter Pistachio cream Premium with and without pieces of roasted and caramelized pistachio, the innovative Biskit Butter Dark Cookie spread, Dark Cookie crumbles for use in bakery and ice-cream and more innovation in specialty spreads with Biskit Butter Raphaela Crunch Spread, Biskit Butter Hazelnut Cream with Wafer Flakes and roasted Hazelnut pieces, Biskit Butter Bonna & Rocha spread. Based on best Belgian Tradition Epicurea Belgian Couverture chocolate in chips, chunks and bake-stable sticks, Creamy White Chocolate, Milk Chocolate, Dark & Very Dark Chocolate, Compound Chocolate in blocks (200g, 1kg, 2.5kg), Truffle Shells and chocolate cups. Heavenella Biskit Butter Hazelnut spread, Hazelnut Gold Crunch with roasted & caramelized hazelnut pieces, White Milk and Dark Chocolate filling with real chocolate. French technology for Luscious Belgian Epicurea Caramel Brussels, Caramel Bruges sale, Dulce-de-Leche, Toffee Caramel.
Top of the cake Linda Cream whipping cream for baking and cooking, Nura sweetened non-dairy cream, Fantasia vegetable cream, Linda Cream Real Dairy Cream 35% in 1L,
1.5L and 5L, Biskit Butter Ice-cream topping in various flavours like Speculoos, Pistachio, Strawberry, Chocolate and Caramel Toffee, European quality milk based Nura Cream Cheese, Nura UHT milk 3.6%.
Biskit Butter marshmallows micro, mini for cake and donut decorations, Biskit Butter Children letter biscuits, Nura Butter Ghee 
in 1kg tins, Nura sweetened condensed milk with real milkfat in 397gram and 1kg tin, Nura Caramelised condensed milk, Nura Evaporated milk, Fritto mozzarella pizza cheese in blocks, Van der Linden fruit fillings in tins and glass jars (blueberry, strawberry, blackberry, apple, raspberry, forest fruit, pineapple).
Also, including Van der Linden Colorama color sprays in 250ml with cocoa butter-based velvet color or metallic pearly shades, Van der Linden Baking Spray 600ml for your baking molds and trays, Lindaflex Croissant Margarine in plates, and Amrita Vegetable ghee are available.
We are travelling to all parts of the world to find and allocate those special ingredients to make our quality products.
Since 1920, Van der Linden has been producing its high quality products in the popular Rotterdam.
We have always carefully listened to our clients. Our clients are the most important asset for us.
For the next years Van der Linden Bakery Products dedicates a large amount of budget and time to inventing new products.
We are flexible and fast, making sure all the products are produced and delivered on time all over the world.
Van der Linden Products is happy to help with the process, distribution and design of private labels.
CONTACT US
(+31) 88 0065 200
info@vanderlindenproducts.com
Deventerseweg 16, 2994 LD Barendrecht, The Netherlands